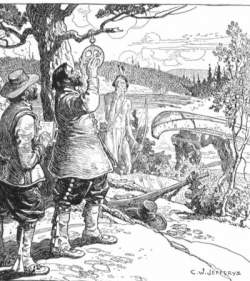 Champlain using his astrolabe by the Ottawa River in 1613,
Library and Archives Canada
Here's something else coming up in May, at the Victoria Day weekend, a so-called
Outdoor Ottawa River Festival
which is all to do with kayaks, canoes and
rafts
. The website seems to presuppose that everyone knows where the event will take place, but in case, like me, you can't find that information without difficulty, the apt-sounding address is the
Wilderness Tours Resort
*
at 503 Rafting Road, Beachburg, Ontario.
Beachburg
is in the Township of Whitewater Region (sic., near Cobden). It's where the French explorer, Samuel de Champlain, in 1603,
lost his astrolabe
, a quasi mythical object which was not found again until 1867.
*
Prime Ministers
Trudeau
and
Chrétien
, in the days when Canada still had a functional
Liberal Party
, both used to enjoy the rafting at this location.